Kunstenaar Jeffrey Godefroy kijkt recht in de camera. Achter hem zit zijn nieuwste kunstwerk: een levensgroot visum, getatoeëerd op de rug van Sam, een Syrische vluchteling. "Tegenwoordig kunnen goederen makkelijker de grens oversteken dan mensen. Dus ik heb van Sam handelswaar gemaakt, en nu kan hij de hele wereld over reizen. Mooi toch?"
In 2006 is dit echt gebeurd. Toen tatoeëerde kunstenaar Wim Delvoye de rug van de Zwitser Tim Steiner, en verkocht hem later als levend kunstwerk. Als Tim sterft, krijgt de verzamelaar de huid. Regisseur Khaouter Ben Hania (Beauty and the Dogs) baseerde hier haar laatste speelfilm op, en incorporeerde het contrast tussen de twee uitersten van rijkdom. Mede hierdoor verdiende zij een Oscarnominatie voor Beste Buitenlandse Film 2020.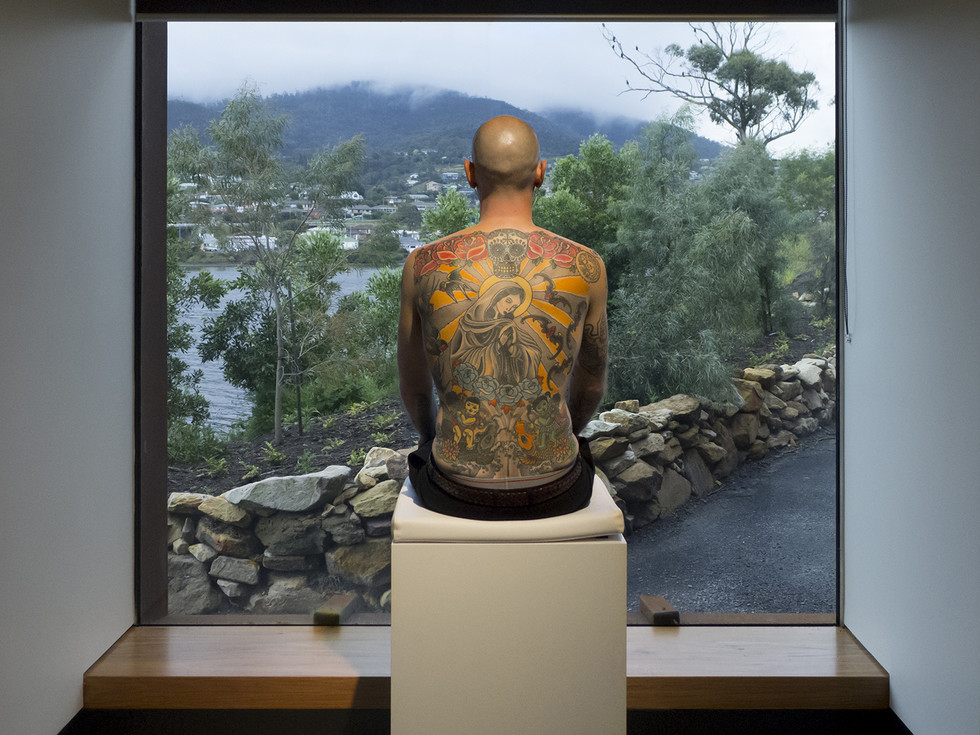 Sam (Yahya Mahayni) wordt in 2011 door de Syrische politie opgepakt nadat hij in een volle trein de revolutie voor de vrijheid toejuichte en openlijk de liefde aan zijn heimelijke vriendin Abeer (Dea Liane) verklaarde. Met de bittere wetenschap dat Abeer zal gaan trouwen met een rijke ambassadeur neemt hij afscheid van haar en vlucht naar Libanon. Hier kan hij de eindjes maar net aan elkaar knopen, en dringt daarom af en toe kunstexposities binnen om gratis te eten. Op een dag ontvangt hij hier een merkwaardig aanbod van wereldberoemde kunstenaar Jeffrey Godefroy (Koen de Bouw); Godefroy wil van hem zijn nieuwste kunstproject maken door een levensgroot visum op zijn rug te tatoeëren. Hierdoor valt Sam onder de reiswetten van een kunstwerk en mag hij overal ter wereld van zijn vrijheid genieten. Het levert veel discussie op in de media en bij familie, maar Sam tekent het contract. Hij reist naar Brussel, waar Abeer met haar man woont, en staat tentoongesteld in het Koninklijke Musea voor Schone Kunsten van België. Maar Sams impulsieve en onvoorspelbare gedrag te midden van de elitaire kunstwereld, zijn verlangen om met Abeer te zijn, en de hele controverse rondom zijn status als levend kunstobject vermengt alles tot een explosief goedje.
Ben Hania contrasteert het genadeloze asielbeleid met excessief rijkdom op spottende, bijna absurdistische wijze. De wrange ondertoon is dat dit vandaag de dag de waarheid is; een oorlogsvluchteling moet zijn leven op het spel zetten om veiligheid te vinden, maar een kunstwerk mag gaan en staan waar die wil. Je rug laten tatoeëren in ruil voor een visum is dus bijna een no-brainer. De vertolking van Mahayni als oorlogsvluchteling én kunstwerk leverde hem in Venetië een Orrizonti Award voor Beste Acteur op. En terecht, want hij weet de (even indrukwekkende) karakteruitwerking van Ben Hania in geuren en kleuren te vertellen, en draagt daarmee een groot gedeelte van de film. Een eervolle vermelding voor Amine Bouhafa is ook op zijn plaats, die met zijn prachtige composities thema, personage en beeld met elkaar heeft verbonden, en de film naar een hogere dimensie heeft weten te brengen.
Na de voorstelling merkte ik echter dat er iets miste. De film was mooi, grappig, scherp, droevig, maar het deed weinig met mij persoonlijk. Zowel het levensgevaarlijke Midden-Oosten als de verstikkende kunstgemeenschap zijn voor mij twee totaal onbekende werelden. Daarna besefte ik met enige schrik dat ik mijn eigen geluk zo erg voor lief neem, dat ik mezelf niet eens kan herkennen in een positie waarin vrijheid een luxe is. Een onverwachte eyeopener na zo'n conceptuele film, maar zeker geen onbelangrijke.
Gechreven door Daan Robberse